Wow. I totally meant to do a weekly update after surgery in case this helps anyone out there... but... I was on an airplane! Yes, I booked my return flight home exactly 7 days after the surgery. They said it was a 5-7 day hospital stay and I was hoping to make that and didn't want to miss a flight if I booked too early. Then after my first night post-op... I was worried I wouldn't even make my 7 day flight. I did. Things got better so I will break down the first week by days and then summarize the last week I've had at home.
June 14 - Post Op Day 1
I was still on an epidural, catheter, IV and hemovac drain. I was still pretty numb from the night before and doing fairly well. I could still feel it hurting fairly good every couple hours and would get a dose of dilaudid to help with the break through pain. I was in the CPM machine which was bending my hip to 25 degrees (they were supposed to start at 30 but it hurt too much). It did feel good to move it though. P/T came and had me sit up on the bed. I was pretty excited that it felt better than I thought but I was still pretty exhausted. I could feel the muscles in my thigh spasm-ing and I was also pretty itchy. They gave me Vistaril - which was supposed to help with the itching and relaxing the muscles. I also had issues with my IV. The first line they put in... hurt so bad every time they put anything new in it. Also, I had an emergency line put in the night before when I was crashing. Well today they came in and put another line in. They wanted one good main line and then another emergency line.
(IV #4 - the one that finally worked)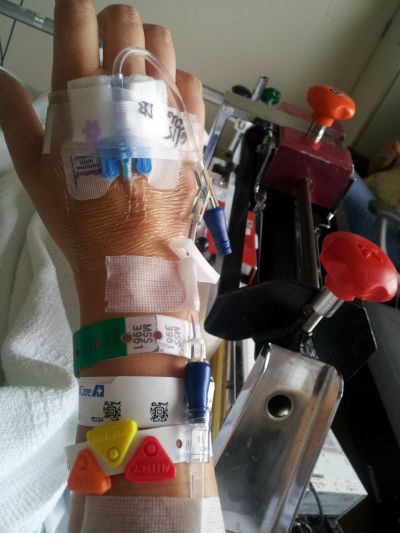 (Hip CPM machine - side view)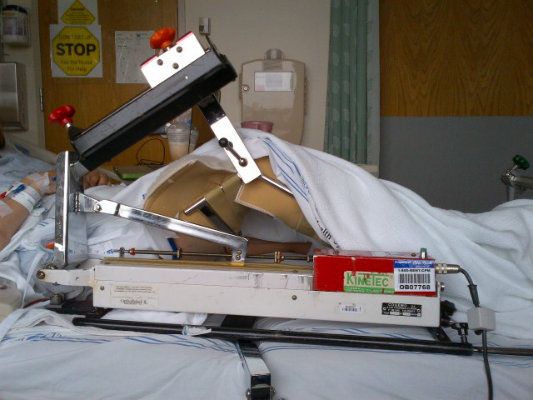 (Incision & Drain gauze/tubing)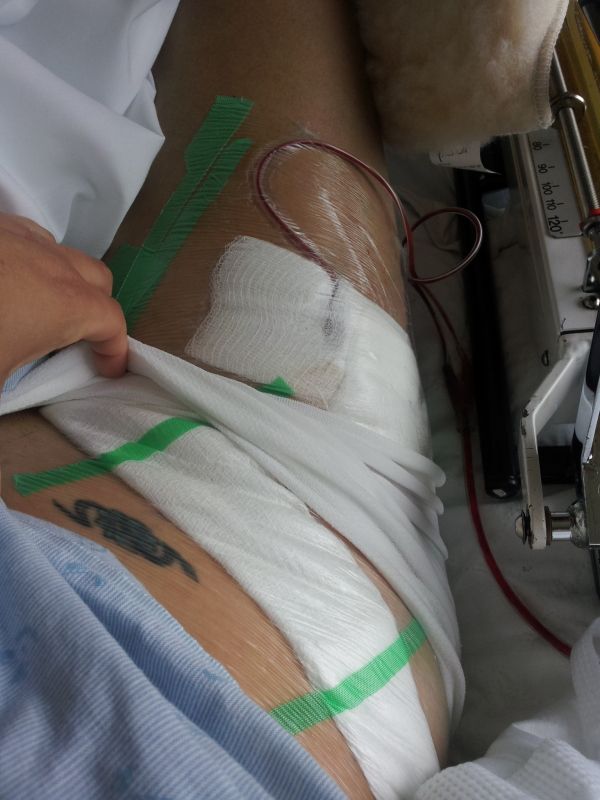 June 15 Post Op Day 2
Still on the epi, cath, IV and drain. This day was very similar. P/T came and had me stand up next to the bed with the use of a walker. I was unsure how that would go since I was still hooked up to the epidural and had only partial feeling in my legs. It went ok but I got pretty dizzy and it took it out of me. Turns out that my blood levels were very low - on the verge of transfusion. The nurses said as long as I was alert and hadn't passed out that they wouldn't probably transfuse but that was a reason I was so weak and dizzy. I also had no appetite. I didn't quite expect this. I had figured that after not eating before surgery and the excitement of the first night - understandable. But even on day 1 I didn't really feel like eating. Well Day 2... I still couldn't finish anything and this wasn't helping my blood levels but I was trying. Before bed I took my first does of long acting oral pain meds.
June 16 Post Op Day 3
Everything came out. I was finally able to see the incision without the bandages. The epidural was removed and the IV line removed but not taken off. The drain bag was also removed and about 8 hours later, the catheter. I couldn't believe how long the drain wires were that came out of me (eek) and my scar was super long but looked pretty good! Dr. Mayo uses internal dissolving stitches and a glue to seal the incision. I had to get my first shot of blood thinners (Fragmen). I will have to inject myself for 21 days after I leave the hospital. I also took my first short acting pain meds. I was feeling pretty good most of the day - thought I HAD THIS. I was able to get up, take a few steps and go to the bathroom with a walker and a bit of assistance. I even walked 50 ft out in the hall - I thought I was ROCKIN IT.
(3 days)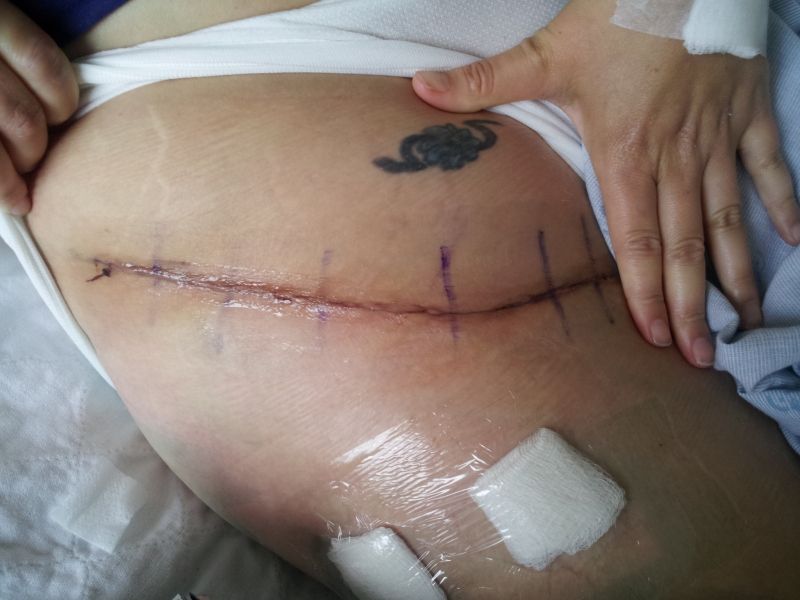 (Hip CPM)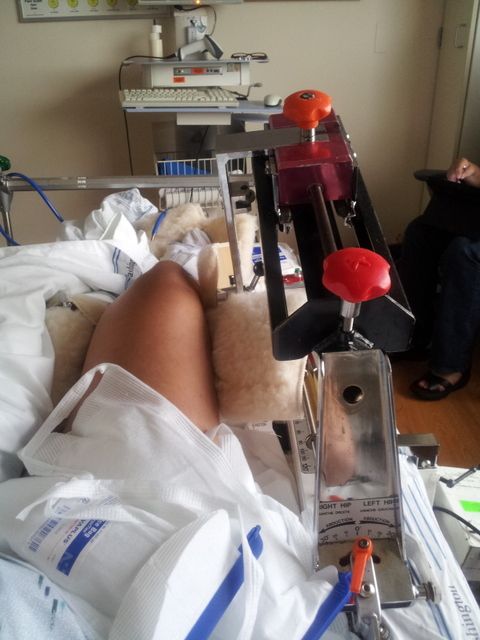 Well about 3am... I didn't "have it" anymore. The epidural was continuing to wear off and I was an in an increasing amount of pain. The nurse came in and came me another dose of dilaudid which helped initially but not for long.
June 17 Post Op Day 4
My surgeon's nurse came in to check in on me and I was still in an significant amount of pain. She adjusted the dose of my short acting oral pain meds and sometime in the middle of the day I FINALLY started to NOT HURT. It was a long day and I was exhausted but eager to continue with recovery. P/T offered to let me start using my crutches and I was nervous and anxious but tried it anyway. I knew I could walk with the walker but only had my crutches to go home with. I felt a little shaky - sometimes a lot... and dizzy but I was sitting upright for longer periods at a time and was able to was able to walk the same 50 ft with my crutches. Blood levels were still low and I still had a very limited appetite.
June 18 Post Op Day 5
Steps! We tried walking steps in P/T. I was able to do 1, up & down! It seems so simple and even as the therapist was raving about how well I was doing - it felt small even though my hip and body ached and I knew that it was really was a good accomplishment. Even if I still got dizzy and needed a wheelchair to get back to my room (I walked all the way down and around the hall to get to the stair). Blood pressure still lower but good and stable. Blood levels still low. Appetite still MIA. Drs and Nurses were happy with my progress and were suggesting that I might be ready for discharge the next day. They were a little concerned with my toileting habits. I was up and using it independently just fine but I hadn't had a BM yet. (Great to talk about, I know... TMI but they get super worked up about it). I am not a very "regular" person so to add anesthesia, narcotics and low activity level... I wasn't worried.
June 19 Post Op Day 6
I walked up/down a flight of steps with my crutches and P/T said I was doing AMAZING and they weren't worried at all about how I would do when I got out. I just needed to take it slow and mind my restrictions (no weight bearing, well only 40 lbs, no straight leg lifts and no abductions for 8 weeks). Miralax, stool softeners, Milk of Magnesia... still nothing. In order to calm everyone down and make sure that I would make my plane ride home the next day I finally gave in... yuck. a suppository. It worked and everything was fine and everyone happy. Dr. Mayo said that I could have probably been released that day but since I was flying out in the morning - they kept me just to make sure and to make my med schedule line up the best way for the flight.
(6 days)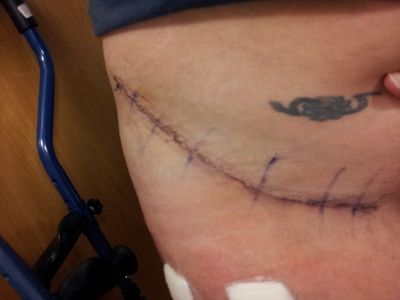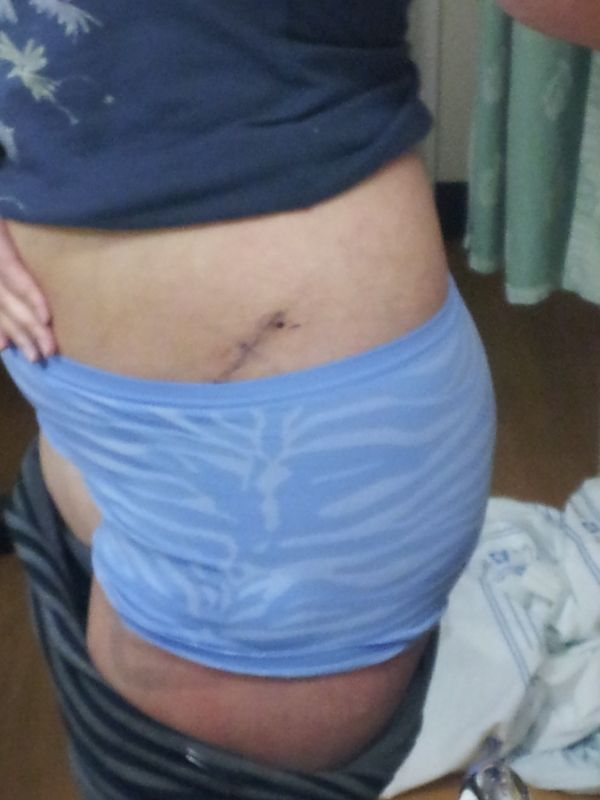 June 20 Post Op Day 7 - Flying home on AK Air 3.5 hour plane ride!!!!
I flew with my husband and kids. We had seats C, D, E & F. I had tried to get a first class ticket or bulkhead but it didn't work. I debated quite a bit about taking the aisle seat so that I would have the aisle to stretch my op leg out into the aisle for relief but I was so scared about someone hitting it. So I ended up taking the window seat (op leg next to window) but I had my littlest son sit next to me, my husband in the aisle by me and my 8 year old in the aisle across from her dad. I took 3 little travel pillows. I angled myself into the corner of the row with two pillows behind me and extended my leg/hip out under the middle seat next to me. I was "V'd" into the window seat basically and I had the room because I was sitting next to a 4 year old who was sleeping on my lap. I was able to easily flex my foot to pump blood and bend/straighten my leg throughout the flight so overall I felt WAY better just sitting than I anticipated which was HUGE. So my advice...
request a wheelchair - do not walk and don't wait until you are there to decide you need it, make sure you have quite a bit extra time - that last thing you want is to be rushed or stressed when in pain,
get a seat with extra legroom if you can (buy an extra seat if you can afford it, travel with someone who will let you encroach on their room and keep you operated side protected from others and carts),
have your meds with you - take them as close to boarding as possible to maximize the effects as you settle into the flight and make sure the flight attendants know you just had surgery - mine were very helpful and brought me ice and helped hold the bathroom door.
Post Op - Week 2
I didn't realize how "unfriendly" my house was going to be until I got home. We definitely need the toilet eat riser, grab bars and the hospital bed with a trapeze. I also needed to set up a little "recovery area" with a table for drinks, phones, remotes, etc... It took a day or so but I am now in a bit of a groove with it. I am sleeping in my bed. My sweet husband carries my pillows and CPM machine from my bed to the hospital bed every morning. He also moves my water, pills & ice. I have coffee and breakfast. I get up and walk around the living room and go to the bathroom every hour or so. I have gone down our stairs and sat in a reclining camp chair several days for a couple hours. I have also started walking outside in the yard - taking laps around the house to get used to more walking on uneven ground.
My days go up/down, physically and emotionally. 6 more weeks of this. Wow. But I am here. Today I think we will try an outing. I will see how I do going to a store and operating an electronic cart for an hour or so... Wish me luck!
(14 days post op)